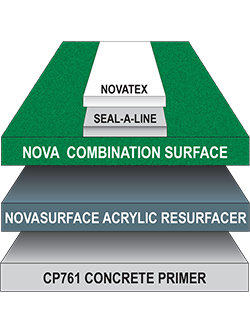 Novacourt Primer CP761
Nova CP761 is an acrylic polymer emulsion that offers an alternative method to the Novabond slurry method of surfacing bare concrete. When used over clean concrete, CP761 will improve bond of acrylic coatings to concrete. 
Allow CP761 to dry completely before next application of Novacrylic surface system. 
NEW CONCRETE MUST: 
• Have vapor barrier under the slab 
• Have medium broom finish 
• Contain no curing agents
• Cured for 30 days 
• Be etched with phosphoric acid wash 
Packaging: 5-Gallon Pail 
Coverage: 200 - 250 sq. ft. per gallon, per coat.
Color: Milky white liquid / clear when dry.