Novaplay Heavy Duty Surface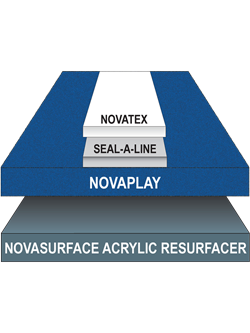 Novaplay Heavy Duty Surface
NOVAPLAY is available in all the standard NOVACRYLIC colors. We recommend two coats of undiluted Novaplay for maximum performance and best appearance. NOVAPLAY is a high performance, heavy duty, color coating system for pavements that are subjected to more wear than tennis courts. The appearance of Novaplay is very similar to that of a tennis court surface, however, it is formulated with a tougher acrylic emulsion so as to be able to stand up to abuse from street shoes, roller skates, skateboards, vehicular traffic and objects such as furniture legs, etc. 
This textured, non-skid, heavy duty surface coating is ideally suited for use on basketball courts, playgrounds, walkways, wheelchair and handicap ramps, and all other pavements where there is a need for an attractive color surface that can stand up to a lot of abuse.
Packaging: 5-Gallon Pail (Grass Green Color)
Coverage: 144 square feet per gallon per coat.