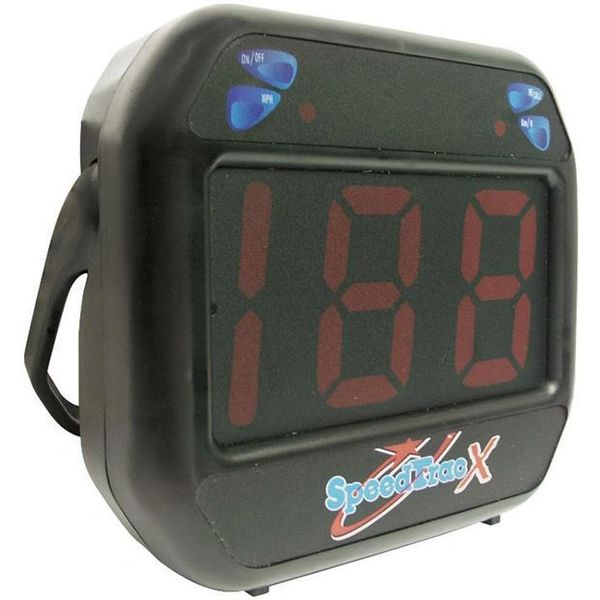 Speed Trac X
Overall size is 6.5" Tall x 7" Wide x 2.3" Deep: Digits 2.5" Tall
The all new Outer Limits Sports personal sports radar is given the SpeedTrac X model designation so that it will be clearly recognized as the newest generation Outer Limits Sports Personal Sports Radar with the greatest performance, superior reliability and added features over its' predecessor.
Performance and reliability are dramatically improved due to the use of a newly engineered 2-layer PCB board, exceedingly superior quality board components and the most preferred X-Band Dielectric Resonator Module utilizing a state-of-art FET (field effect transistor). The SpeedTrac X operating software has been engineered to increase the ability to identify and track a target, while avoiding the "ghosting" effect that can be inherent to radar devices.
New features include a thicker polycarbonate housing to aid against "shock" damage to the unit while enhancing fit and finish, longer battery life, and optional accessories. Other features include accessory portals for future add-on optional equipment and a tripod mount on the bottom of the new SpeedTrac X housing.
SpeedTrac X is the recommended training aid for hockey, soccer, tennis, baseball, cricket, squash, lacrosse, cycling, field and roller hockey, speed skating, racquetball. It is also used for recreational motor- sports activities such as ATV's, carting, snowmobiling and off-road motorcycling.
Utilizes 4-C cell batteries, providing 3 times improved battery life ( Not Included )