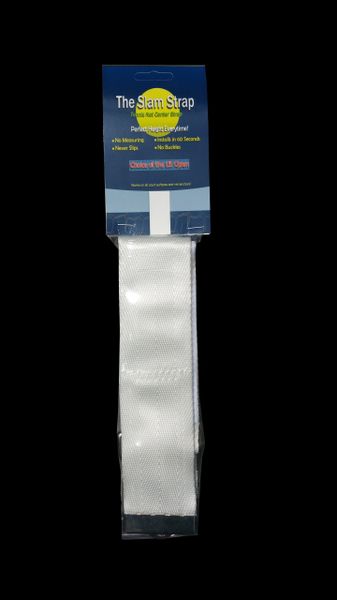 The Slam Strap
The Tennis Net Center Strap Choice of the US Open Since 2004!
Used by pro tour events, colleges, clubs & courts all over the world
Stop guessing at the height of the net! Stop struggling with those out-dated buckles that just don't work!
The Slam Straps is a revolutionary leap into the future for tennis net center straps. And, now you can have this advanced technology on your courts. Leave the measuring tapes and yard sticks at home! The Slam Strap has a patented self-measuring system that tells you when the net is exactly 36 inches high.

The Slam Strap has no buckles! Buckle systems are out-dated and always slip. Thus, the net never remains at the proper height. The Slam Strap incorporates a patented all internal fastening system that locks the perfect height, guarantees no slipping or rotation, and all you see are clean white lines. No other strap on the market can make this claim!

We use only the highest quality materials on our tennis net straps. Our fabrics are woven using a patented process that keeps them from stretching and weathering in the elements. Our hardware is the most durable non-rust metals on the market. All of this technology at an unbeatable price makes the Slam Strap the perfect tennis net center strap for your courts!

The Slam Strap works on all court surfaces and above and below ground anchor systems.